Monroe MI AC Repair | Top Cooling Unit Maintenance Service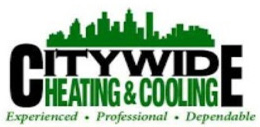 If you have air conditioning in your Monroe home, you can tell how inconvenient the system can be if it breaks down during the scorching summer. To start with, the system breakdown can interfere with your productivity if you work remotely. Secondly, it will call for unplanned repair expenditures. Finally, the defects will disrupt your indoor comfort and the health of the household members. The above are just a few of the multiple problems that come with AC system failure. To avoid such drawbacks, you need to hire our expertly trained technicians to keep an eye on your AC system.
At Citywide Heating and Cooling Company, we subject our technicians to ongoing training to ensure that they are well–versed with different HVAC systems. Also, we have invested in the right tools and equipment to improve their working efficiency. Thus, our experts can use their skills and experience to test and identify any AC system issues efficiently. You can trust them with the repair and maintenance of any of your AC system issues.
AC Maintenance and Tune-Ups | Keep The Cool Going Strong
The choice of your HVAC contractor matters a lot when it comes to quality repairs and maintenance. If you select a poor contractor, be ready to incur recurring maintenance costs since they won't provide a long-term solution to your air conditioning system. However, relying on our qualified experts' work will give you peace of mind to do your job or relax at home. Here are some of our unique perks.
· Quality service
We have all it takes to assure you of quality service. First, our customer representatives are very polite and hospitable to allow any client to express their issues freely. Secondly, our technical experts are highly qualified and have access to the latest tools and equipment to attend to all your air conditioning issues efficiently. Thirdly, we have a flexible 24/7 work schedule, meaning we can provide our services at any time and place. Finally, we have the right equipment and know-how for testing the quality of our team's services. This is not all; we stick to you till your system's service life ends. What else do you need to get quality services?
Value for money
We have the best deals in the market since we charge our quality services reasonably. We will commit to the following promises to cushion you against loss of your money and enhance your trust in us:
a.
Property protection guarantee: our technical team will repair your HVAC system and safeguard the system throughout its service life.
b.
No frustration guarantee: our technicians will promptly respond to your maintenance requests to avoid inconveniencing you. We will usually adjust the fee or revisit any service that does not please you (valid only if the previous service was provided by the citywide repairs and maintenance team)
Don't Lose Your Cool | Call For AC Repairs
Do not wait until it's too late. Call us as soon as you notice any system defects such as sensor problems, electric control issues, refrigerant leaks, and much more. Call us or reach out online today!