Deerfield MI AC Repair | Top Cooling Unit Maintenance Service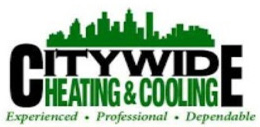 If you have air conditioning in your home, you can tell how inconveniencing the system can be if it breaks down during the scorching summer. To start with, the system breakdown can interfere with your productivity if you work remotely. Secondly, it will call for unplanned repair expenditures. Finally, the defects will disrupt your indoor comfort and the health of the household members. The above are just a few of the multiple problems that come with AC system failure. To avoid such drawbacks, you need to hire our expertly trained technicians to keep an eye on your AC system.
At Citywide Heating and Cooling Company, we subject our technicians to ongoing training to ensure that they are well–versed with different HVAC systems. Also, we have invested in the right tools and equipment to improve their working efficiency. Thus, our experts can use their skills and experience to test and identify any AC system issues efficiently. You can trust them with the repair and maintenance of any of your AC system issues.
AC Maintenance and Tune-Ups | Keep The Cool Going Strong
Not all HVAC companies offer you high-quality services. Many companies out there will offer to do the job at a cheaper rate but don't provide a permanent solution. When your unit needs a long-term solution, it can be detrimental to apply quick fixes. This is because it doesn't take too much time for such problems to reappear and cause you further inconvenience in the future.
We have a different way of doing things in our company. We inspect your system and suggest a replacement only when we think it is a more cost-effective solution than AC repair. Sometimes the operating cost incurred to keep an old unit running is not worth it. Our technicians take all the time they need to understand the nature of the situation.
Some companies try to extract more money from you by suggesting unnecessary repair work to be performed. But we only recommend them when it will solve the issue your unit is suffering from. Only when the damage is beyond repair or the system is not worth maintaining any further shall we suggest a replacement. We consider personal factors like your budget and preferences while performing our services and recommend a replacement based on these factors.
Don't Lose Your Cool | Call For AC Repairs
Do not wait until it's too late. Call us as soon as you notice any system defects such as sensor problems, electric control issues, refrigerant leaks, and much more. Call us or reach out online today!