Oakville MI AC Installation | Trusted Cooling System Replacements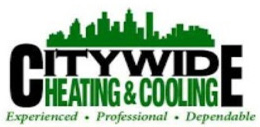 Air conditioners help to regulate the temperature and humidity levels to maintain optimal comfort at homes and businesses. When installed properly and kept under regular maintenance, the AC systems can last for 10 to 15 years. However, there are times when system maintenance cannot remedy the operational issues, and the best solution is to replace the entire system. Whether you intend to replace an existing AC system or have a new one installed on your property, you should hire a reliable contractor to do the job. Wondering where to get a contractor you can trust? We are here to help you.

At Citywide Heating And Cooling Company, we understand that our clients feel overwhelmed when choosing the best AC system replacement units. So, our team of experienced technicians will inspect your AC system to identify defective components and then advise you on the best and the latest replacement units. They will also quote for you the units' respective prices to protect you from exploitation. After our experts complete offering their services, we usually send our inspection team to carry quality tests and surveys to ensure customer satisfaction. We have a long-lasting solution for all your HVAC issues.
Air Conditioner Installs and Replacements You Can Trust
You only want the best professionals to perform your AC replacement and maintenance jobs. Our team of experts will carefully inspect your system and provide you with the most cost-effective solution. Wherever you reside in our service area, we will always provide you personalized services based on your home's size and budget.
You must choose the right people to work on your cooling system. Our technicians have years of experience in the field, and they are trained to make customer satisfaction their number one priority. As such, you can ask for their help at any time of the day.
Whether your unit needs some routine preventive maintenance work or thorough repairs, our team will offer the best suggestion based on your needs. Sometimes, the problem might be so severe that your unit would need to be replaced. In that case, our professionals will suggest the right kind of unit for your home after assessing your cooling needs and other preferences.
Need Your Air Conditioning Installed or Replaced? Call Our Team!
It's our joy to see you living in a comfortable space. We provide a long-lasting solution to all air conditioning issues. We also have bonus packs like the essential maintenance and troubleshooting training just for you. Do not hesitate to contact us for our immediate and reliable AC assistance.